If data is the answer, what is the question?
By Eva Noble, COO at Onpro Consulting.
When I was at university and studying general and application controls for auditing, the term garbage in equals garbage out was something our lecturers and tutors used to refer to. That term dates back to 1965[1], so not a new term but very relevant in today's world of big data and the 4IR.
But what is the 4th Industrial Revolution (4IR) that everyone is talking about?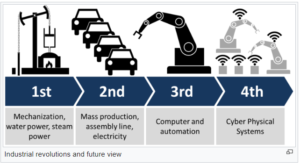 The First Industrial Revolution took place from the 18th to 19th centuries in Europe and North America. It was a period when mostly agrarian, rural societies became industrial and urban. The iron and textile industries, along with the development of the water wheel and then the steam engine, played central roles in the Industrial Revolution.
The Second Industrial Revolution took place between 1870 and 1914, just before World War I. It was a period of growth for pre-existing industries and expansion of new ones, such as steel, oil and electricity, and used electric power to create mass production. Major technological advances during this period included the telephone, light bulb, phonograph and the internal combustion engine.
The Third Industrial Revolution, or the Digital Revolution, refers to the advancement of technology from analogue electronic and mechanical devices to the digital technology available today. The era started during the 1980s. Advances during the Third Industrial Revolution include the personal computer, the Internet, and information and communications technology (ICT).
The Fourth Industrial Revolution builds on the Digital Revolution, representing new ways in which technology becomes embedded within societies and even the human body. The Fourth Industrial Revolution is marked by emerging technology breakthroughs in a number of fields, including robotics, artificial intelligence, nanotechnology, quantum computing, biotechnology, The Internet of Things (IoT), decentralized consensus, 3D printing and autonomous vehicles. The biggest impact of the Fourth Industrial Revolution is to improve the quality of life, reduce inequality of the world's population and raise income level.[2]
The concern with each industrial revolution relates to the loss of jobs and the fear of change. However, it can be seen from the first 3 that jobs changed, and people would reskill.  Our grandparents would never have envisaged some of the jobs/careers that exist nowadays. The hesitancy of any business to embark on the journey of the 4IR in economies with high employment is a reality.
How will the 4IR affect the way we work?[3]
4IR is likely to impact our lives in how we communicate, how we produce, consume and even our identities. For this reason, it will be essential to understand why the work we do matters, what value it adds, especially in a world where automation and artificial intelligence is woven into every part of our lives.
Employees will have to adopt a life-long learning approach to work, upgrading skills continuously, either to ensure they remain at the cutting edge of their field or to keep pace with the technological advances unfolding across industries. Constant upskilling will be more important than work experience gained or tenure. Occupations traditionally regarded as technical will require additional skills in creativity and interpersonal skills.
The blending of physical and organisational boundaries will continue, requiring greater agility not just in innovation, but also operationally. Rather than being confined to a single space, work will be outcome-based, leveraging flexible arrangements as well as online talent platforms. Work will increasingly be understood as what people do, not where they do it.
This means businesses will collaborate with independent professionals and freelancers, often through digital talent platforms. It is likely that a new form of 'labour union' will emerge, which will require new policies, regulations and protections to newly emerging occupational categories and models of work.
According to Klaus Schwab (Founder of the World Economic Forum): "The fourth industrial revolution can compromise humanity's traditional sources of meaning: work, community, family, and identity, or it can lift humanity into a new collective and moral consciousness based on a sense of shared destiny. The choice is ours."
So what are the technologies that will shape us [4]
Artificial Intelligence: Sometimes known as "Machine Intelligence", the term AI is applied when a machine mimics the cognitive functions that humans normally associate with other human minds, such as "learning" and "problem solving".
Robotics: This is the integration of technologies such as mechanical engineering, electrical engineering and computer science to develop machines that can substitute for humans.
Internet of Things (IoT): The network of physical devices, vehicles, home appliances and other items embedded with electronics, software and sensors that allow them to connect and exchange data.
Autonomous Vehicles: This involves the use mechanical engineering, electronics, computer engineering, telecommunications, systems engineering and control engineering to assist and in some cases replace human vehicle operators.
3D Printing: Also known as additive manufacturing, this refers to processes used to create a three-dimensional object in which layers of material are formed under computer control.
Quantum Computing: The development of actual quantum computers is still in its infancy, but large-scale quantum computers would theoretically be capable of solving certain problems much more quickly than any classical computer.
Nanotechnology: The manipulation of matter on an atomic, molecular and supramolecular scale, nanotechnology may be able to create many new materials and devices with a vast range of applications in areas such as medicine, electronics and energy production.
So, all these technologies collect data. But what is data? Computer data is information processed or stored by a computer. This information may be in the form of text documents, images, audio clips, software programs, or other types of data. Computer data may be processed by the computer's CPU and is stored in files and folders on the computer's hard disk.[5]
What can or should we do with this data? Data can be analysed, manipulated, synthesised amongst many other things but what you do with the results of all these actions will get you from data insight to making a profit.
So options that you have are[6]:
Making better decisions by understanding your data, combining data from various sources and reacting quicker and increasing your chances of making sound decisions.
Innovate products, services and processes. Data allows you insights to create or improve your offerings and thus have better relationships with your clients as the offerings meet their wants.
Informationalise products, services and processes. By building more data in what you offer, you make existing offerings more valuable.
Improve quality, eliminate cost and build trust. You can find root cause of errors and thus improve quality. Bad data increases costs, so by activity addressing quality and eliminate them it reduces costs and allows customers to build trust in quality offerings.
Provide content by being able to sell, license or market the targeted data, it creates opportunities for other companies to enhance their offerings e.g. weather data for the hospitality industry.
Connecting data providers with those who need data
Exploit asymmetries. Allowing one party to exploit their knowledge to drive a better deal e.g. hotels allowing for variable pricing.
Business have more data at their fingertips than ever before. The key is to get data to work for you, by creating insights and knowledge and allow it to create the most value and profit for your business and implement it into your long-term data strategy. The strategy should be supported by the highest level of the organisation. It doesn't matter how good your analytics are, if you don't have the right support, the effectiveness of your strategy and the resultant increase will not be forthcoming then your data might as well be garbage.
[1] The specific phrase is accredited by FOLDOC to the late Wilf Hey, who is also accredited by FOLDOC for work in developing RPG while working at IBM in 1965
[2] https://en.wikipedia.org/wiki/Fourth_Industrial_Revolution
[3] https://www.itweb.co.za/content/KWEBbvyaOAevmRjO
[4] https://www.insider.co.uk/special-reports/what-is-4th-industrial-revolution-11531221
[5] https://techterms.com/definition/data
[6] https://hbr.org/2017/06/does-your-company-know-what-to-do-with-all-its-data